Web Design
Day-to-day websites become more advanced, flexible and responsive. images to enhance their designs and it will show something different than previous designs. instead of writing everything designing using icons, images.
Webdesign is something that it will represent your brand online. it is an online face or your company. a website is mandatory for every company and all types of business this is why web design becoming more advanced to catch up the online users.
previously people use to open websites in desktop and laptops only, Nowadays website getting more traffic from the mobile device than PC and this is time to improve the design according to mobile and tablet.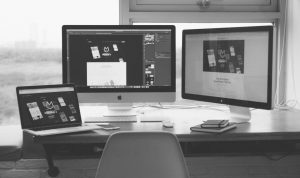 we need to design many designs for different devices. this is making more effort and time wasting.and the term came Responsive Web Design (RWD) to solve the issue of different designs for different devices. Responsive Web Design new revolutionary in the website and design will change according to device orientations. Many new programming languages and scripting languages will be used to make responsive designing. Responsive web design has become extremely popular in modern years this is the reason behind the rise of mobile internet users.
A responsive website is one that has been designed to react or adjust, based on the technologies and type of device used by the customer to display the website. It is generally one website design that will appear good all sizes — from large devices, LCD monitor to smaller screens on tablets and smartphones.